For the time being, the Dewalt DRILL DCK955X cordless drill does not appear to be available on Amazon. Unfortunately, we couldn't find it on the Dewalt website either to link to it.
The good news is that a newer model of this item is available: the DEWALT 20V MAX* Cordless Drill Combo Kit, 9-Tool (DCK940D2).
Although you can still read our earlier review of the Dewalt DCK955X underneath this post, we're updating this information to reflect the current upgrade.
Both kits include nine similar tools, except the newer tool, which receives an improvement. As a result of the additional design modifications made by Dewalt, you should expect the improved design to perform better.
Meanwhile, check out our comprehensive evaluation of the Dewalt DCK274L drill.
9-Tool DEWALT 20V MAX* Cordless Drill Combo Kit (DCK940D2)
This DEWALT DCK940D2 20V MAX Lithium-Ion 9-Tool Combo Kit includes everything you'll need to complete any project.
Dewalt DCK940D2 Kit, like its predecessor (DCK955X), features everything you could want in a tool. However, with a few tweaks, you might be able to create a kit that will help you improve your job. This set includes the following items:
DCD771 Drill/Driver
DCF885 1/4″ Impact Driver
DCS381 Recip Saw
DCS393 Circ Saw
DCS355 Oscillating Tool
DCL040 LED Worklight
DCG412 Grinder
DCR006 Bluetooth Speaker
Right-Angle Drill; 2 DCB203 20v MAX XR Batteries (2.0AH), charger; 6-1/2″ Saw Blade, Side Handle (DCG412), Wrench (DCG412), Universal Accessory Adapter.
DEWALT DCK940D2 (20V MAX Lithium-Ion) Specification
The DEWALT DCK940D2 20V MAX Lithium-Ion 9-Tool Combo Kit comes with everything you'll need to complete any job. The Compact Drill Driver provides 300 unit watts out (UWO) of power, handling a wide range of tasks.
The 1/4 Inch impact driver has three LED lights with a 20-second delay that gives visibility without casting shadows. A Reciprocating Saw with a keyless blade clamp allows quick blade changes without touching the blade or reciprocating shaft.
The Circular Saw with a 6-1/2″ blade allows quick blade changes without touching the blade or reciprocating shaft. For example, in a single pass, a carbide blade can cut 2x4s at a 45-degree angle.
Blades and attachments may be replaced quickly and easily using the Oscillating Tool quick-change accessory system, eliminating wrenches.
The light output of the LED work light is 110 lumens. The 7,000 RPM motor in the 4-1/2″ grinder delivers enough power for cutting and grinding jobs.
Finally, the 3/8 Inch Right Angle Drill has dual speed ranges (0-650/0-2000) rpm for improved user versatility in various applications. In addition, the Bluetooth Jobsite Speaker allows you to stream music wirelessly from your mobile device.
The DEWALT DCK940D2's Performance
Everything is in order in this DEWALT DCK940D2 kit. It's an excellent kit to have on hand for the handyman.
Purchase a set of 5Ah batteries for yourself, as the 2Ah ones will not last long enough. Although it is a tad on the heavier side, the Dewalt is undoubtedly one of the best tools available. It's well worth the money!
But, like with any product, there are a few things to think about before purchasing this fantastic Dewalt 9-Tool Combo Kit. First, it would help if you didn't make any assumptions about this kit that aren't true.
It's worth noting that the radio won't charge your tool batteries. For some buyers, this is a huge disappointment. Also, the sound quality isn't fantastic, but the Bluetooth capability is a bonus.
Although the circular saw is not flimsy, the shoe's durability raises concerns about dropping and transit in the included tool bags.
A rip guide is also omitted from the circular saw. Though we believe the Dewalt DC825B 1/4″ (6.35MM) 18V cordless impact driver tool has a slight advantage in terms of power, the impact driver is adequate.
This set includes a decent drill or driver that will suffice for most jobs. First, however, you should determine whether it is appropriate for your situation. Then, of course, it's significantly more potent than the bulk of honey-do weekend warrior drilling tools in the mid-tier.
It accomplishes what it's supposed to do, but with this kit, a hammer drill would have made all the difference. The work light is surprisingly bright, but a headlamp or a tactical flashlight that's slightly larger than a AAA battery could be a better option if you need greater visibility.
The 11-Amp (DWE402) DEWALT 4-1/2-Inch Angle Grinder Tool with Paddle Switch is another excellent addition to this kit.
The right-angle drill/driver tool is a powerful grinder with a good finish. It performs admirably, and the good news is that it is long-lasting.
If properly utilized, this grinder will last a long time. This device, on the other hand, can get you through in a pinch! As a result, use caution when using this grinder.
You'll appreciate the DeWalt Oscillating tool's extremely convenient fast-release lever. I also like that it appears to work with any brand of Blade, at least so far.
The reciprocating saw accomplishes work precisely as it should, and it's a great addition to this set. Also, keep in mind that the oscillating tool is the only one that is brushless.
If you know what you're doing, there's no way you can go wrong with this kit. You will not be disappointed if you purchase one of these Dewalt DCK940D2 Combo Kits. I hope this information was helpful.
Previous DEWALT DCK955X Drill Tool Review
The DEWALT Drill DCK955X 9-Tool Cordless Combo Kit is the kit to beat all kits. Anyone interested in doing both minor and significant drilling operations will benefit from this 18-Volt XRP Combo Kit.
This drilling tool does not require you to be an expert to use. So do away with calling someone to repair or help with construction around the house and use this kit. It is well worth the price.
Specifications for Dewalt Cordless Drill – DCK955X (9-Tool) Kit
This kit includes just about everything you need for home repair and construction. It contains nine essential tools: A hammer drill, a circular saw, a reciprocating saw, an impact driver, a cut-off tool, a cut-out tool, a jigsaw, an impact torque wrench, and a flexible floodlight. It also includes two XRP Batteries and a charger.
Overall Experience
The tools within this all-in-one kit are a do-it-yourself home repairman's dream. The hammer drill is top-of-the-line and has a three-speed transmission for ease of use and different projects. From cutting holes in wood to tightening screws, this Hammer drill is your one-stop-shop.
The circular saw and reciprocating saw cut wood and planks quickly. Both saws also have a carbide blade and keyless blade clamp, respectively, so changing blades is a breeze. The cutout and cut-off tools are top-of-the-line for rounding out the splinters and sharp bits of construction.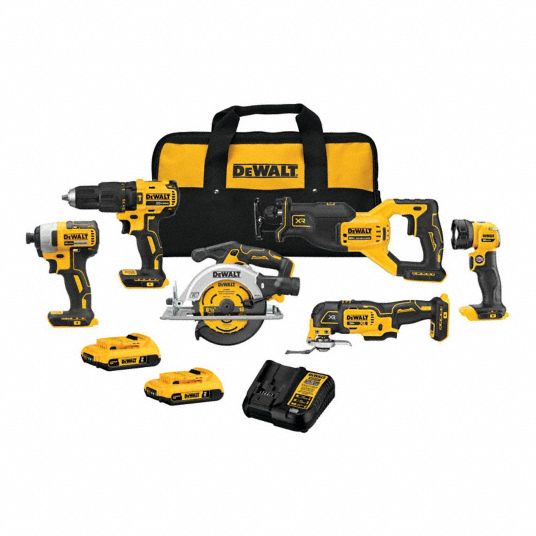 The Impact driver is essential for drilling through metal surfaces, which is one of its best drills. The torque wrench is your basic torque wrench, but it's included in this kit, so you don't have to go out and purchase an extra one. Finally, the flood lamp provides additional lighting if you are not well-equipped or work in the dark.
The Verdict
This DEWALT Drill DCK955X tool kit is a one-stop shop for DIY Homemakers and home repair. All of the tools here are top-of-the-line, and the batteries are 18-VOLT XRP Li-Ion which will hold a charge for some time while working on your projects.
Simple and easy to use, the only problem with this tool kit is that you will run out of projects to do because you will have completed them all. However, these tools are fast, efficient, and well worth the money.
It is a staple in any home for the person who looks to improve his house, or if anything should happen, you have the tools necessary to fix it.
The DEWALT DCK955X 9-Tool Kit does not come with bits for the drills or blades for the saw, but those are cheap and can be bought at just about any tool shop or home improvement center.